Come on out and run...

August 3, 2002 What's a Gauntlet?
Sponsored by

Contact info:

Email: Gauntlet150@webtv.net
Phone:
Dave or Kim at 503-362-4107
Mailing Address: The Gauntlet, 4776 Appaloosa Court SE, Salem, OR

97301
Sponsors of The Gauntlet are
Power Yamaha & KTM
of Sublimity, OR;
Taylor Motorcycles Inc
. of Woodburn, OR;
Billís Motorcycles Plus
of Salem, OR;
Northwest Tour & Trail
of Hillsboro, OR;
Imperial Gardening
of Salem, OR; and the
Oregon_DSR
.
---
Keep checking back here for updates as they happen!

Status 5/28: FYI, this is a non-OHV area, and the pickings for quality trails are small, so we are giving you notice that due to that reason, it is not full of trails. We will do our best though!
Status 5/24: The snow levels are extremely low for this time of the year, the course may have to be changed slightly as to avoid 4ft drift riding. We will still have a great ride for you all. -Dave
Here's the plan for the ride:
Description: Welcome to the Gauntlet's web page. This will be the first running of this annual ride and will take in some of Oregon's finest scenic routes, from tree lined dirt roads to delightful views of the surrounding area from atop of peaks and fun rim roads to crystal blue lakes and a few technical trails to keep those more aggressive riders happy.
Date: August 3rd, 2002
Start & Finish Point: We will be starting from Power Yamaha & KTM in Sublimity, Oregon, and the course will cover approx 140 miles of fun and exciting routes.
Sponsors: Power Yamaha & KTM of Sublimity, Oregon, Taylor Motorcycles Inc of Woodburn, Oregon, Bills Motorcycles Plus of Salem, Oregon, Northwest Tour & Trail of Hillsboro, Oregon, Imperial Gardening of Salem Oregon, Oregon_DSR of Oregon
Trophies & Prizes: There will be trophies for the first 10 places and many prizes to be given away, all donated by the Gauntlet's sponsors. Finishing positions will be according to how many points you get from playing some fun and games of chance.
OMRA: At this event you will also be able to earn OMRA Dualsport Series Points, depending on how lucky you are.
Food & Beverages: Power Yamaha & KTM, will be providing all riders and Gauntlet workers with a BBQ at the finish point, free of charge. There is also talk of a free breakfast too ( watch this space for details as they become available ).
Parking: There is plenty of free parking at Power's store site, from truck to trailer and RV's .. Sorry no overnight camping allowed.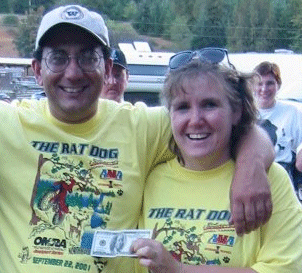 Accommodations: There is a Best Western Motel located 300 feet away from the start point, swimming pool spa etc. Contact Cindy Ortega 503-769-9579 . Tell her you are with the Gauntlet dualsport event and receive a 10% discount. Rooms are very limited due to a rodeo being held in the near vicinity on the same date.
Camping:
Silver Falls State Park, approx 11 miles from Power Yamaha. Telephone: 1-800-551-6949

John Neal County Park, approx 14miles from Power Yamaha. Telephone: 541-967-3917

Fishermans Bend Camp Site, approx 19 miles from Power Yamaha. Telephone: 503-375-5646

Cost: There will be a $25 entry fee to all riders. $35 for those of you that don't pre-register.

T-Shirts: There will be Gauntlet t-shirts available for $10, these will be very limited.

Roll Charts: You will need to bring a roll chart holder for this event. The first event I rode, I didn't have a roll chart holder .... NO FUN ... if you don't have one GET ONE, they're very inexpensive and are like night and day when used.

Safety: Safety is number ONE for you and anyone else that you are riding with, or come across along the route. ..... You are RESPONSIBLE, please act that way.

Sweeper: The Gauntlet sweep crew is the LAW out on the course, they are there to help and assist anyone that may be in trouble. Should you break down, stay on course and a sweeper will reach you in time. We will have a follow truck to pull any of you out if need be. The sweepers are there for YOUR safety, be nice to the sweepers.

Requirements: Your bike will need to be street legal and you will need to carry proof of insurance. The Gauntlet or any of its sponsors will NOT be responsible for any damage bodily or mechanically .. YOU ARE RESPONSIBLE FOR YOU AND YOUR BIKE.

© 2002 NW Tour & Trail