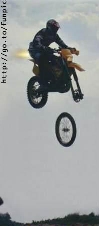 VIP


Posts: 131
Joined: Tue Jun 29, 2004 6:01 pm
Location: Newberg
I had Johnny contact me on what he needed for the "CAT" ride...
[Can you tell a newb; what exactly is a Dual Sport? Besides the obvious (bike), what does one need for this event?
I've been riding for 3 years, but I'm only one week into my first
sidecar rig. I'm loving it and looking to play with it!
Thanks for any info. Johnny ]
Johnny, Thanks for your inquiry. This ride will be easier than the average D.S. ride. A re-setable ODO is a plus. If your ODO can reset back by 1/10 of a mile, thats even better. If you have a ODO that can't reset, you could mathematically calculate the distance, but it would be hard. This ride won't have a lot of turns close to each other.
A route holder would be nice, but not necessary. We will have Jart charts, but you could put them on a tank bag or map holder, and use them, that way.
I wanted to run a ride for big bikes. We had Urals, KTM Adventures, KLRs, 1150 GSs, Tigers, (Lions & Bears, oh my!) at the Black Dog & Rat Dog events. This is a easy road ride to some high elevation passes that will be gravel. The routes will be optional (suggested), with the only sure schedule being the start/ finish,& check points with opening and closing times. For example, you will leave the Start @ 9:00am. The next check is 7 miles up the hi-way, with a 10am-11am opening time. You look at your route suggestions and see you have a hard 50mi. pavement & gravel option, or a 15mi. mostly single lane pavement, some gravel, or you can ride 7 mi. up the hi-way, get there early and use your time to tackle a bigger loop you notice coming up later...These are just examples that are subject to change but this will be the style of the ride and I'll explain why later...
The check points will have a different twist on them. It won,t be a "matter of chance"at most checks. There will be some "skill" and "ingenuity" type checks. Some "observation" type checks like the one Joe and Julie did on the Black Dog several years ago. They had a Dummy (dressed in riding gear) setting off to the side. If anyone mentioned it, that person got 50 bonus points. They only gave out 100 points. You should of heard, that night, all the people that said they were going to say something but forgot...It was funny!
Hope I gave you enough info.. Sign Ups will start in the next month.

Danno