Wow, Julie and I are whipped, but we had an awesome time! From the sounds of it, you all did too, and it makes all the hard work worth it. Sifting through all the pictures (Thanks Aaron!), there's some great stuff in there. We hope your short visit to Oregon was memorable and we hope to see your state in the future. For those states we've already been to, we hope you had as good a time in Oregon as we have in your states!
Ride on!
-Tom Niemela & Julie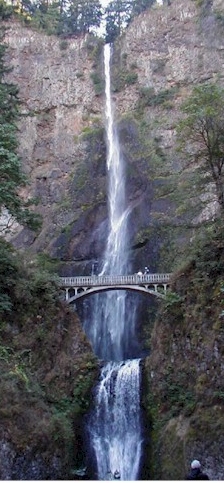 Barrell
---
Julie and I will update this page as needed. Email us on the left if you have any questions. Our goal is to make this preride something you won't forget. Besides, I've been bragging up my state for so long, it's time to back it up! -Tom
<<Click here for animated satellite picture!
>>>Click here for maps on how to get to the riding!<<<
3/7/04:

Woohoo! Even better weather yet! Hope you all are ready for a good time!!!
| Mon | Tue | Wed | Thu |
| --- | --- | --- | --- |
| 59° | 44° | 53° | 40° | 54° | 39° | 51° | 37° |
| Partly Cloudy | Chance of Rain | Scattered Clouds | Partly Cloudy |
3/6/04: Looks like Monday will be a killer day! The rest of the week won't be so bad either. "Chance of rain" is like a heat wave to Oregonians.

| | | | |
| --- | --- | --- | --- |
| 57° | 38° | 53° | 40° | 54° | 39° | 51° | 37° |
3/4/04: NOTE: We have officially changed the Monday Killer Ride to be Cedar Creek Staging Area. (We had originally planned on using Jordan Creek.) The exit is milepost 22.8 on Wilson River Highway, turn into Jones Cr/Diamond Mill OHV Area and go straight at the 4-way intersection after the bridge. Go about two miles and you will see the wide staging area on the left. Only thing that has changed is the staging area - times are the same. The weather guessers say Monday looks good!
3/1/04: Egad, just one week - woohoo! Did some more minor updates on the preride entry list, so check it out if you have any questions. Julie and I are frantically scouring for island-sized vans to haul all your bods out to the OHV areas. We have an awesome set of locals that are stepping up to the plate and ready to show ya'll one of the best prerides yet! I went riding Saturday and it was, well, muddy, so plan on wallowing in plenty of it!

2/25/04:Here's latest updates and suggestions (formal ride agenda below):
* All riders should bring their own protective riding gear. This means helmet, boots, gloves and eye protection. It could get fairly cold out, plus it will be MUDDY. Better plan on getting plenty of it all over. It rains here a lot, so plan on riding in it - GorTex works best.
* Our state club will supply lunches and water.
* ANYONE riding a quad must have some form of certificate that they've taken a quad training course. If you do not have a certificate, plan on attending the quad-training class on Monday. Come Tuesday, if you do not have a certificate of sorts, you will not be able to ride the quads on the dunes, since they are being offered by the USFS and County Sheriff's. (Note: Julie's club does have two extra quads where a cert is not needed.)
* Bring money to buy your own breakfast on the way out and din on the way back.
* We will have two vans to transport warm bodies from the hotel to the riding areas and back. It will take about 1.5 hours each way, so plan on enjoying the ride.
* At this point, Kawasaki will be providing ten dirt bikes (KDX and KLX's), plus Russ and Bill Chapin will be bringing bikes. Some of us locals will have a few spares. There will be plenty to go around.
2/23/04: We will be emailing out an update for the preride soon, so keep an eye on your email inbox. Only two weeks to go!
2/21/04: Note for you Tuesday dune riders: ALL BIKES/QUADS MUST HAVE A FLAG ON THEIR RIDE! Click here to see the rule and what you can do, specifically if you're bringing your own ride.
2/20/04: Just got back from a week-long biz trip and found out that Honda was not able to provide the 15 bikes for the preride! This obviously changes things in a big way, so we are scrambling to make up the loss. Stay tuned. -Tom
2/9/04: Just got the updated PreRide List from Ann, so now we're synched up. Click on the link above to confirm your entered correctly. If not, let us know!
2/5/04: Just got confirmation today that Kawasaki will also step up to the plate (thanks Paul!) and provide six cycles for people to use (KDX and KLX's). Along with Honda's 15 XR250's, there should be more than enough units for everyone!
2/4/04: Added a link on the left for 'Chainsaw' and crew.
1/29/04: NOTE: a class will be available on Monday for quad training, for those of you who want to use the loaner quads from the local Sheriff's Department on Tuesday at the dunes. To use their quads, you must have proof you've taken some sort of class, or take this one. If you need to attend this class, you MUST contact Julie ASAP!
1/28/04: Only one new person has contacted Julie and I about signing up for the preride. Everyone sleeping or what? To motivate ya'll, looks like we got about 15 XR250 Hondas for people to ride, plus some available quads, so RSVP us now!
1/2/04: Hope ya'll had a great holiday season! FYI, Pilon was asking if he could bring his 4WD on our Thursday 4WD route. Shouldn't be a problem, should others want to also do the same - the more the merrier!
12/16/03: Posting this page to start things off for the conference preride.
---
NOHVCC Annual Conference, Portland, March 10-14, 2004
Pre-Conference Ride itinerary info
Your Oregon NOHVCC representatives, Tom Niemela and Julie Barrell cordially invite you to this pre-conference happening. We're pretty stoked about this opportunity and plan on going out of our way to accommodate everyone. We're not sure if we can come up to the incredible level that many of the last conferences have done, but we can assure you that a good time will be had.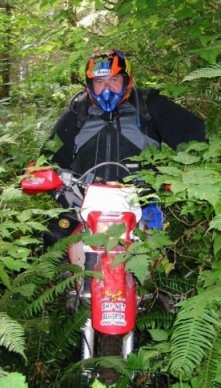 A couple things:
2: It rains in this part of the state - a LOT. We don't die, we rust. Our suntan lotion is WD-40. If you plan on partaking in any of the prerides, bring waterproof, warm riding gear. GorTex is great. We also suggest that you install ONLY soft-terrain tires, or you really won't like yourself. Riding in March around here could entail using a light jersey, a snorkel or a snowplow, depending on Ma Nature. Plan accordingly. If you show up in summer riding gear and snivel about the weather, we don't want to hear about it.
Monday - TNT (Tom's Nasty Trail) Ride (bikes only): This ride is for the expert-level riders. Start time will be 9:00 am whether it be rain, snow or sun. You will ride in the Tillamoook State forest and cover as much ground as possible. This will be an A or AA level trailride, providing there is interest. If there is no interest, we will go with whatever trail skill level the group decides as a whole. The original plan is a bulldog, no-wimps, hardcore type ride. You will get dirty, thrashed and spent, but it will be a ride to remember! NOTE: a class will be available on this day for quad training, for those of you who want to use the loaner quads from the USFS and local Sheriff's Department on Tuesday at the dunes. To use their quads, you must have proof you've taken some sort of class, or take this one. If you need to attend this class, you MUST contact Julie ASAP!

Tuesday (Dune ride - quads, bikes [with flags only!]): Start time will be 9:00 am and will be taking a dune ride at Sand Lake Recreation Area. This area is adjacent to the ocean beaches between Cape Lookout and the mouth of the Sand Lake estuary. The weather at Sand Lake will be westerly winds with fog and rainfall. Although some days are just plain gorgeous. Following the ride we will be going to visit Oregon's first and only ATV training site located in Tillamook.

Wednesday (quads, bikes): Start time again will be at 9:00 am and our ride will begin in the Tillamook State forest. What you will be riding in is a handmade, second growth forest, which is located in the Coast Range Mountains of northwest Oregon. Weather could be rainy, sunny or maybe a touch of snow.

Thursday (4wd): Start time will begin at 9:00 am with a four- wheel drive route. We have some local 4- wheel drive clubs that would like to give you the thrill of a lifetime. Once again the route will be in the Tillamook State forest, but instead of being on a bike or ATV, you will be in the comforts of a 4WD rig. You will be able to see some of the trails that you had ridden the day before and maybe ride them in a 4-wheel drive.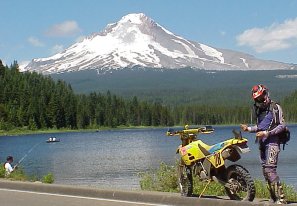 We are hoping to have some vehicles available for people to ride, but it may not happen. Our friend, Paul Slavik is trying to grease some skids on this issue. With that, treat this as a BYOB (bring your own bike) event.
If you have any questions, please don't hesitate to contact us via email or tele.